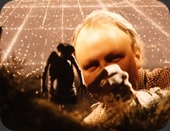 Watching movies you forget that when they were being made, the cameras probably spent more time off than on and what was a super serious, iconic scene quickly turned into bored actors dicking around.
That's why I love stumbling on pics like these that give you a taste of what was happening behind the curtain when movies like Jaws, Star Wars, Terminator and The Shining were being made.
It's a pretty cool reminder that despite the massive impact these films have had on pop culture, they were made by people just like you and I who were probably bored to tears a lot of the time.