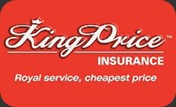 Competition time here on TFW boys and girls and this week I'm offering up a R1 000 iTunes voucher to one lucky reader who is able to KLAP the challenge I'm about to set you guys.
So, here's the dealy-o. King Price Insurance is the only insurance company that actually decreases your car insurance premiums month by month.
Their reasoning behind doing this is simple, it's a fact that cars are a depreciating asset so in other words the older your car gets, the less it's worth, so why should your insurance premiums increase month by month, that doesn't make any damn sense!