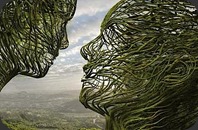 Ever since I got my filthy little mitts on this gigantic Dali coffee table book back when I was eleven or twelve years old, I've always really enjoyed good surrealism.
Sure, there are millions of artists who do it really badly and deserve to be fed mind-altering hallucinogenic drugs until they can do it right, but every once in awhile a decent once comes around like Igor Morski.
I'm not saying this guy is going to change the world with his paintings, but I found them at least interesting enough to repost for you guys to have a look at and decide for yourselves if he's any good.