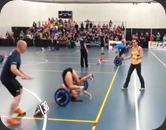 Look, I don't need to tell you guys, you ous are on the same waveslength as yuour pel Slicky-T, but crossfit is for serious flippin CHOPHEADS I mean come off it man, what the hell is WRONG with these ous?!
There's only one way to train and that's by klapping MONSTER weights, chowing enough protein to make your kidneys flippin EXPLODE and injecting FATAL DOSES of roids boet!
All this flippin squat, pull-up, flippin moff crossfit stuffs is for ous who don't have the flippin' BALLS to eat weights, put there bodies on the line EVERYDAY and have FULL-ON heart attacks by the time they reach their mid-40s.
So ja. These videos gave me a lag. Flippin chopheads…
So who wants so klap a bit of crossfit?!
Hey? Ja. Exactly.
-ST