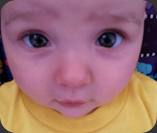 So I want all of you guys, all of you crazy beautiful people who read this site to join me in wishing my little girl a happy half-year birthday! Can you believe how quickly it's going by?! Yeah, me neither…
People ask me all the time how The Cub is, how J-Rab is and how we're all doing as a family and I find myself at a complete loss for words. Mostly I just smile from ear to ear and tell them it's been amazing in every way.
J-Rab and I still have moments where we stare in total wonder at this tiny human and can't believe we actually made her.