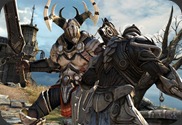 Today's Tiger Bites is going to be super short, sweet and to the point because I'm actually writing this in the past (it's Wednesday) while I'm still at my sister's place in Holland and I got gaming to do.
My youngest nephew and I have become hopelessly obsessed with Infinity Blade and have decided we won't sleep safe until we have the BEST OF EVERYTHING IN THE GAME.
We need to get about 3.5 million gold pieces to do this, we have 2.2 currently and considering you get about 5 thousand every time you kill someone, we got a LOONNGG way to go.