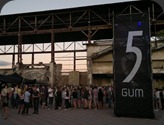 There are going to be a couple of these 5Gum posts sprouting up all over the interwebs and rightly so because the 5Gum Experience on Saturday was a textbook example of how to throw a KILLER party.
I only got back from Thailand last week and have a lot of shit occupying my soupy Tiger-brain at the moment, so I'd all but forgotten about the gig until Saturday morning.
I love surprises. Always have, always will. So I was totally fine with the venue for the gig being a big secret but holy shit, NOTHING could have prepared me for what the legends at 5Gum had organised for us.