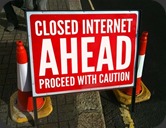 Last week (or was it the week before…?) I posted that video about SOLAR FRIKKIN' ROADWAYS, a pretty genius idea that an engineering couple came up with to replace roads with solar panels.
I wrote about their mission to provide the world with huge amounts of clean energy whilst addressing a whole other stack of environmental issues and ended the post saying I was going to donate $10 to their cause.
At that stage they had raised a total of about $260k of their $1m target and had 11 days left. A week later they were over the $1.5m mark and have extended the donation period by another 20 days – all because of me!