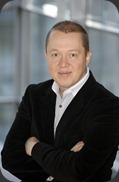 When Marko Ahtisaari, Nokia's global head of design, began speaking at the Nokia N9 launch, the entire room went quiet.
Not because he was overbearing, not because he dominated the room with his presence, but because he spoke with a kind of humility that endeared him to his audience almost immediately.
Listening to him, I got the impression that he was carefully measuring every word as he spoke, yet his speech flowed so freely it felt like he was just shooting the breeze with us as he explained how he and his team designed the Nokia N9.