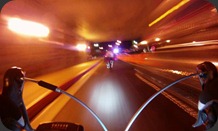 What the shit is a bicycle film festival? I hear you ask, and I don't blame you for being so confused about the whole thing because I was exactly like that when I heard about it too.
Well, to answer your burning question, a "bicycle film festival" is an entire night at the movies (in this case, the Labia Theatre in Cape Town) dedicated to "two wheeled good times".
That's right. Short movie after short movie about bicycles, the people who ride them, the culture surrounding them and the influence they have had on us as a motherflippin' species yo! This is other level shit guys and you need to get involved because some of these movies are going to MELT FACES.