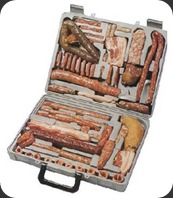 Don't get me wrong, I love a good braai just as much as the next South African. What better way to spend a sunny day than with good friends, cold beers and the mouth-watering aroma of delicious animals sizzling above a blanket of red hot coals.
It's ingrained in our DNA. It's as natural to South Africans as making chocolate is to the Swiss or being snooty pricks is to the French.
However, as a concerned global citizen I think we should pause for a minute and consider whether making EVERYONE IN THE COUNTRY BRAAI AT THE SAME TIME is really that smart.