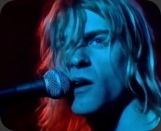 I'd heard that Nirvana were recently inducted into the Rock 'n Roll Hall Of Fame, which is a great way to preserve their legacy, but at the same time I couldn't help but think that Kurt was probably rolling in his grave.
Then I actually watched the half-hour induction ceremony last night and was glad I did because a lot of cool things were said about the band and I learned a few things I didn't know before.
The band performed four songs at the end with surviving members Dave Grohl, Krist Novoselic and Pat Smear and an array of female vocalists filling in for Kurt, which I think he would have liked.
To be honest though, only Annie Clark from St Vincent actually pulled it off. Her cover of "Lithium" was pretty good and I liked her unassuming manner. Joan Jett did an ok rendition of "Teen Spirit", Kim Gordan from Sonic Youth fucking butchered "Aneurism" (on purpose I think) and Lorde turned "All Apologies" into a funeral dirge.
The highlights for me were the intro video (Kurt looks like SUCH a badass singing "Love Buzz") Michael Stipe's moving induction which I think he fucking nailed right on the head, Dave and Krist's acceptance speeches, Kurt's mom's short but beautiful speech, the fact that Courtney was definitely trollied (surprise surprise) and Krist's hat, which I think Kurt would have killed himself laughing at.
Here it is:
Interesting that Krist says "Nirvana didn't come to the mainstream, the mainstream came to Nirvana", because it sure as fuck did and when it did it left Kurt feeling used, hollowed out, like he'd somehow lost his integrity, like he'd become exactly what he fucking despised.
He imploded, crushed by the brutal irony of what his life had become. Kurt turned that "nuclear rage and fury" that Stipe referred to back on himself and ate that bitter shotgun shell that ended it all, that severed his ties to the sell-out corporate rock world forever.
How ironic that that same world has now inducted his band into their Hall Of Fame.
Wherever he is, you can rest assured that he watched that ceremony with a huge shit-eating grin on his face because I think the thing about him that I always found the most alluring is that he knew, he fucking knew, that in the end it's all just one big joke.
"Rather be dead than cool" he once famously said.
Amen brother.
-ST