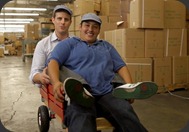 I came across this startup video last night on Mashable that I thought I'd share with you crazy kids because the guy behind it, Michael Dubin deserves some recognition for his work.
Not only has the guy come up with a great idea for a startup business, but he's managed to secure his first $1 million of funding to get his business off the ground.
How did he do it? Partly by busting his ass and working like a goddamn Trojan to make his dream a reality, and partly by shooting and acting in the following video which is all kinds of awesome.
What a total badass.
Call me fickle, easily impressionable, gullible and weak willed, but DAMN! I'd sign up for Dollar Shave Club in a second.
I mean, did you see the bear in that video?!
I rest my case.
-ST