Ahh, Johnnie Walker my old friend. I've been meaning to get round to doing a tasting on this site of one of my favourites from the House Of Walker, Johnnie Walker Double Black, but looks like that's gonna have to wait.
As of last week, Johnnie Walker has officially introduced a new variant, Johnnie Walker Platinum which, judging from its price point, now sits just beneath Blue Label in the Walker range.
To launch this very sexy-looking 18 year old blended whisky, Johnnie Walker have opened what they're calling the "One Bottle" liquor store in Melrose Arch, where people can bid for the first bottle of Platinum to land on SA shores.
You can either bid at the store itself, or online at www.facebook.com/johnniewalkersouthafrica with all the proceeds going to the non-profit organisation, South Africans Against Drunk Driving.
Bidding closes next week Friday though so you better get on that – the highest confirmed bid at the moment is R125k which is not too shabby at all.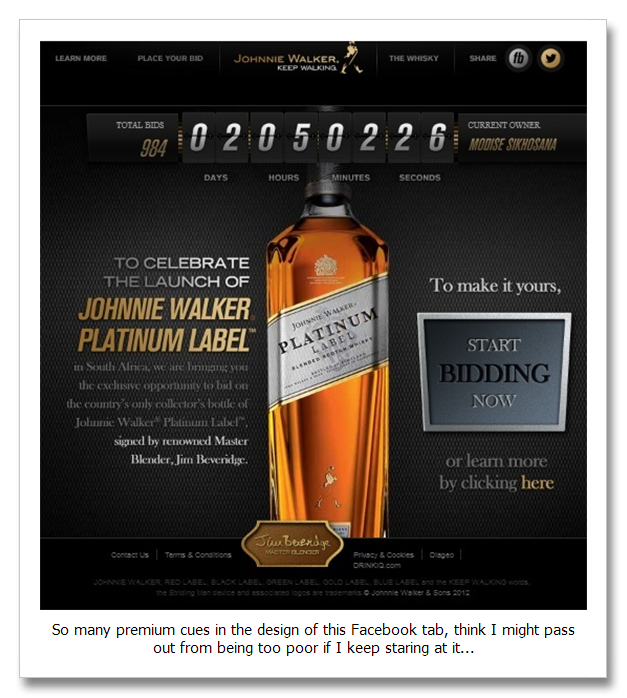 The bottle is signed by the Master Blender himself (ie. the guy who created the blend) which, along with the fact that it's the first bottle in SA, makes it basically priceless.
Platinum Label has an interesting story behind it – apparently the Walker family established a tradition back in the 1800s where private blends were crafted for favoured customers, directors of the company and private gatherings.
This inspired Johnnie Walker's Master Blender, a man who goes by the name of Jim Beveridge (too perfect!), to create a whisky ideally suited for exclusive and intimate gatherings.
Jimbo himself says it best:
This is an intense, smooth and contemporary blend, crafted from some of our most treasured whiskies, for those who know what they want in life – especially from their whiskies. Like the rare and precious metal after which it is named, Johnnie Walker Platinum Label is rich and refined – delivering the distinctive depth and complexity that is synonymous with Johnnie Walker. In fact, I believe that if John Walker were to create a Whisky today, Johnnie Walker Platinum Label would be the result.
I won't lie, given a slight pay raise, a bottle of Johnnie Walker Black Label would have a permanent place in my liquor cabinet because all marketing fluff aside, it is arguably the best blended scotch whisky in the world.
Some insider info you might want to share the next time you order a dram and someone gives you a snobby look and tells you Johnnie Black is overrated – other Master Blenders the world over have a grudging respect for Johnnie Walker Black Label because it is one of the most perfectly balanced whiskies you will ever taste.
It is the stick in the sand by which countless other Master Blenders gauge whether their product is worth a damn and as it currently stands, it is the world's best selling deluxe blended scotch whisky.
Which has almost nothing to do with Platinum Label other than the fact that I do love me some Johnnie Walker (especially Gold Label served from an ice-caked bottle and paired with dark chocolate or Blue Label neat as it comes in a tumbler, no ice, no water) so I am beyond intrigued to taste what the Platinum is like.
Don't hold your breath for a review though. They save that stuff for legitimate whisky writers (ie. boring old farts) so the closest I'll probably ever come to tasting it is licking the picture of the bottle I posted above.
Feel free to join me if the R1000 price tag is out of your league too.
Who knows though… got a birthday coming up, maybe a wealthy, kind-hearted reader will hook a brother up.
A man can dream
-ST