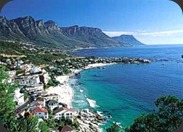 If you're still at work reading this, then I have good news for you. As a man who's been on holiday since Friday, I can honestly say that it's FUCKING AWESOME!
Especially if you live in Cape Town. I mean holy shit, how hot has it been the past 10 days? The city bowl is like a goddamn oven – the sun sets at 8pm and all throughout the day it's clear skies, sunshine and good times.
I only go back to work on the 7th Jan but I'm not actually going anywhere so I've decided to carve my days up into "time units" that I'm only allowed to spend doing stuff that makes me happy.