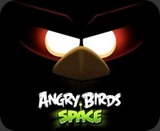 I got the original Angry Birds on my Nokia N8 to kill some time when I was waiting for important life-stuff to happen and ended up getting hopelessly addicted to it for about a week or so.
Even after that I'd still revisit levels and shoot for 3 stars on them just for the hell of it. The physics were water-tight and there's no denying I got a kick out of destroying shit and popping green pigs.
Then two weeks ago I read that NASA had partnered with Rovio for the newest instalment in the franchise, Angry Birds Space and, 3 days into playing it, I can honestly say the results are nothing short of brain-meltingly awesome.