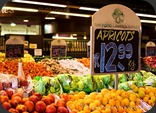 J-Rab and I have been meaning to take our grocery shopping experience to a whole other level by hitting up the Fruit and Veg City near Gardens.
We were in the market for some fresh, affordable produce because fruit and vegetables are an important ally in the fight against scurvy (we learned that the hard way).
So we set off on Saturday, already silently congratulating ourselves for being so progressive in our choice of fruit and vegetable vendor only to encounter a distinctly average shopping experience.
Walking in, one of the Fruit and Veg trolley jockeys drove a trolley square into my Achilles tendon, which is to be expected in a store that looks like someone with one eye laid it out.