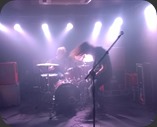 It takes a special kind of maniac to decide to strike out alone to a place he's never been, drink with total strangers in the middle of the week and rock out to bands he only discovered a month ago.
Conventional wisdom would say rather stay at home, put the kettle on and watch Friends reruns but there's only so much Earl Grey and David Schwimmer a man can take before he loses his fucking mind.
Bands In Town (www.bandsintown.com) mailed me to say DZ Deathray were playing at the Boileroom in Guildford, so I got on the nearest train and, like a creepy public masturbator, went to go lurk at the bar alone.