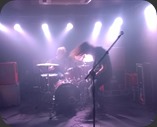 It takes a special kind of maniac to decide to strike out alone to a place he's never been, drink with total strangers in the middle of the week and rock out to bands he only discovered a month ago.
Conventional wisdom would say rather stay at home, put the kettle on and watch Friends reruns but there's only so much Earl Grey and David Schwimmer a man can take before he loses his fucking mind.
Bands In Town (www.bandsintown.com) mailed me to say DZ Deathray were playing at the Boileroom in Guildford, so I got on the nearest train and, like a creepy public masturbator, went to go lurk at the bar alone.
Thing is though, two beers down the line I'd already befriended the bar people and Will the Sound Guy and while I was chatting to them this legend of a man by the name of Chris straight up invited me to join him and his buddies at their table outside.
How fucking friendly is that?! In an instant I changed from "Lone Guy Who Could Be An Axe Murderer" to "Guy At A Bar With Some Mates… Who Could Be An Axe Murderer".
The first band up were Bypolar, a three-piece from Surrey who delivered an impressive performance. Frontman and guitarist Ben Lopez took to their setlist like a loose propeller, tearing through a formidable catalogue of post-grunge / hardcore punk / metal tracks like it was nobody's business.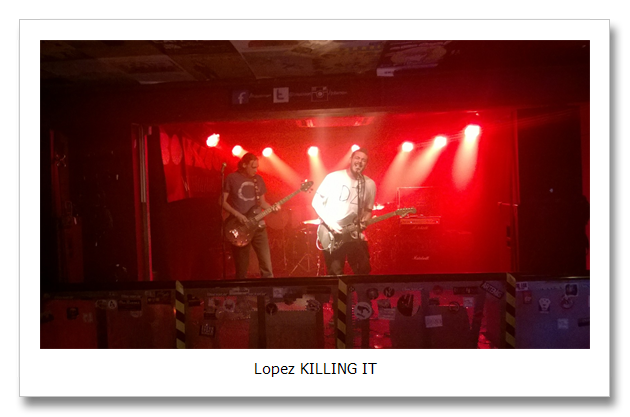 The man has a great voice and belts out an impressive gravel-toned roar reminiscent of Shaun Morgan from Seether. Drummer Chris Pattison is no slouch either and, together with bassist Steve Pool, builds a rock-solid rhythm section on top of which Lopez delivers his sucker-punch hooks and face-melting solos.
Here's a recent video the guys shot for the track "Due" to give you a taste of what Bypolar's serving up:
They ended their set with an insane cover of "Bullet With Butterfly Wings" which simultaneously blew me away and reminded me of just how many powerchords bands in the 90s used to pack into their songs.
I caught up with Ben after the band played and talked shit with him for awhile. He's a stand up guy, ended up buying me tequila and shooting the breeze about the band and the scene in London.
Word to the wise – keep your eyes peeled for this band. Support them when they gig, give them a listen here (http://www.reverbnation.com/bypolarofficial) and follow them on Facebook here.
After Bypolar finished up I grabbed another beer and talked so much shit with my newfound friends that I missed the second band completely, what a dick.
But there wasn't a way in fuck I was going to miss DZ Deathray. You have to understand how insane these guys are. Take Death From Above 1979, throw in some Blood Red Shoes and add a heavy dose of sheer originality and explosive energy and you've got DZ Deathray.
Here, watch this video for their track "Less Out Of Sync", I'll let the music speak for itself:
Unfuckingbelievable right?!
To say that DZ Deathray came, saw, and annihilated EVERYTHING would be an understatement. By the second track (which happened to be "Less Out Of Sync" if I remember correctly), a mosh pit had already broken out and guys were losing their fucking minds.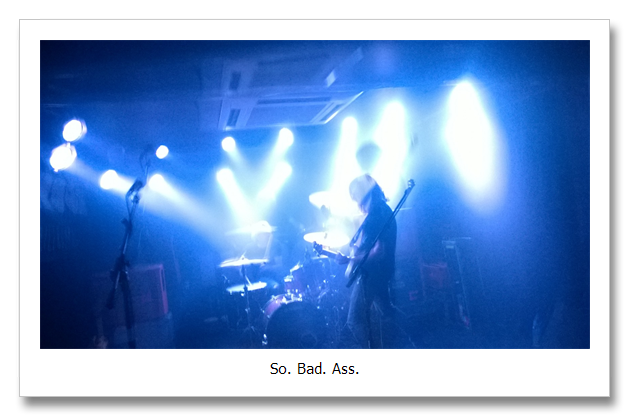 On stage, guitarist and vocalist Shane Parsons wields his axe like a fifth limb, somehow managing to deliver a damn-near perfect performance despite the fact that he's ricocheting around the stage like a piece of goddamn shrapnel.
Add drummer Simon Ridley's shotgun-blast bass kicks and tight fills and it's no wonder the guys in the pit were trying to murder one another.
The guys played an amazing set, building up to my personal favourite, "Gina Works At Hearts".
Good luck getting that hook out. It felt good to lose my shit completely when the guys launched into that track. Dig those lyrics as well "I can't buy her dead eyes and her wasted smile".
There's a real depth to DZ Deathray's songwriting, they can do punch-your-teeth out thrash pop / post-punk just as well as they can do more introspective, shoe-gazing tracks like "Northern Lights".
I caught up with both Simon and Shane over the course of the night and chatted a bit about their upcoming album launch for Black Rats, their second studio album following their 2012 debut Bloodstreams. Really cool guys, surprisingly chilled considering how manic they are onstage.
Simon's sister Katie actually directed "Less Out Of Sync", which I was mad impressed by. That is one talented family, no lies.
So yeah, what you need to do now is have a listen to Black Rats here, follow DZ Deathray here and get your ass to The Shackwell Arms on Monday night (18th Aug) for the official album launch because it's going to be shit-your-pants mad.
All-in-all, I had the best night. Telling Schwimmer to get fucked and throwing the Earl Grey down the sink was the best move I could have made.
Shout out to Soundguy Will for giving me a ride back home. Next time I swing by the Boileroom, first round's on me big guy!
Tiger out.
-ST