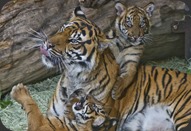 If you have a baby, the golden rule is the minute that little bundle of poop joy can smile, you HAVE TO take him / her to a professional photographer and shell out a small fortune to have family pics taken.
If you don't do this, print the pics out on canvas and block-mount them in the most visible place in your house, you are a total failure as a parent.
People will judge you, especially other parents who are pissed that they went ahead and dropped a couple of thou on their family photoshoot and you have the audacity not to follow suit.