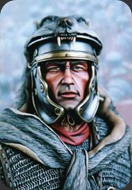 Is that right? VIII – that's eight hey? What the hell am I going to do when I get past 10, you guys are going to have to help me out after that. Any Roman numeral experts out there? Ten is X right?
Anyway, let's do a work time-waster shall we? Your boss is gonna fucking LOVE this one

Big up to my main man Skatter who sent this through to tellthetiger@gmail.com last week. Following the popularity of CycloManiacs, here's another cycling game that is sure to get your ass FIRED, BITCH!
It's called "Canvas Rider" and it goes a little something… like this…