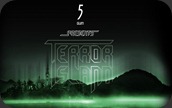 Anyone who was lucky enough to attend the last #5GumExperience when Two Door Cinema Club played at an old cement factory in Cape Town will know how flippin' epic these experiences are.
I mean, shit man! You can't buy tickets to the #5GumExperiences, you can only win them. THAT'S how exclusive these shindigs are, no lies.
So yeah, if you want tickets you got two options. Hit this link before midnight tonight and enter the official 5Gum Terror Island competition for tickets to watch two of the biggest names in electro music, A-Trak and Hudson Mohawke, live in CT. OR you could just enter the competition right here on this motherflippin' site!