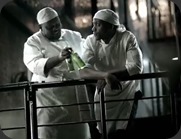 I'm probably a bit late to the party on this one because I don't watch TV at all, so I have no idea how much this ad's been flighting on local TV stations or for how long, not that I give a shit.
What I do give a shit about is how powerful this two minute and eleven second piece of communication is. As an aspiring scriptwriter, when I see work like this it leaves me with my jaw on the floor.
Everything about this ad from the carefully scripted voice over to the song that plays to their choice of shots to the acting and exceptional editing is damn near perfect.