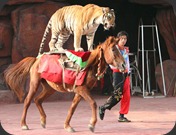 Hey party people, how the hell are ya!
It's been way, way too long since I last did this. Work has literally been killing me the past two weeks, but things are finally stabilising which means I'm back in the saddle, riding this, the Anti-Christ of South African blogs once again, all flashing eyes and floating hair, towards the event horizon.
So what's your Tiger pal been up to the past two weeks? Curazy pops that's for sure, ricocheting all around the country like a piece of loose shrapnel.
Transport, motorways and tramlines, starting and then stopping, taking off and landing, the emptiest of feelings…