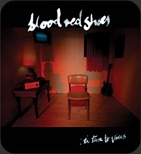 The Down Lizzo:
Blood Red Shoes' first two albums, 2008's Box Of Secrets and 2010's Fire Like This were packed with huge, aggressive punk-pop hooks that surged with energy and kicked like a mule.
Now this Brighton-based duo are branching out with In Time To Voices on which, singer/guitarist Laura-Mary Carter and drummer/vocalist Steve Ansell tone things down considerably.
It takes some getting used to, and fans of their acerbic brand of punk-pop will find the album lacking the punch-to-the-gut force of Box Of Secrets and Fire Like This, but to be perfectly frank another album like the first two would have buried this band as surely as Billy Talent's last effort buried them.