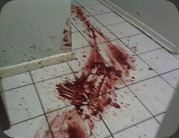 A couple weeks back I posted this super cryptic post about the barbaric practise of "bear baiting" which used to take place in London in the 16th and 17th centuries in a place called the Beargarden.
Well, this Saturday we're bringing the Beargarden back in the form of a short horror movie featuring your buddy ol' pal Slicky-T.
So what I'm gonna do is show you the trailer for said horror movie.
But before you get all tetchy, lemme diffuse that little time-bomb by saying YES, I realise I'm basically not in the trailer at all, but I assure you I am in the actual movie.