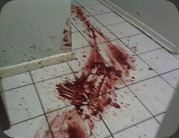 A couple weeks back I posted this super cryptic post about the barbaric practise of "bear baiting" which used to take place in London in the 16th and 17th centuries in a place called the Beargarden.
Well, this Saturday we're bringing the Beargarden back in the form of a short horror movie featuring your buddy ol' pal Slicky-T.
So what I'm gonna do is show you the trailer for said horror movie.
But before you get all tetchy, lemme diffuse that little time-bomb by saying YES, I realise I'm basically not in the trailer at all, but I assure you I am in the actual movie.
Spooky, nè? Ja, this movie's gonna make you okes KAK your broeke!
Actually, I have no idea what it's gonna make you okes do as I haven't seen the final version. The  writer / director / producer didn't want any of us to see the final version until it's on the big screen.
So here's the dealy-o if you wanna come watch your Tiger-friend acting like a crazed, blood-soaked fucking maniac:
Date: Saturday 29 October
Time: 18h00 (starts at 18h15)
Place: Labia Theatre (68 Orange Street, Gardens, Cape Town, ZA)
Cost: Tickets are R30 each
They're gonna be showing a shite-load of short horror movies that indie writers and directors from USA, Spain, Brazil, Finland, France and South Africa have shot. Each film is about 5 – 10 mins, so it should be pretty fucking wild.
Afterwards we're going to celebrate my acting debut by getting completely out of hand probably somewhere on Long Street where I'll be signing autographed pictures of my victims:
See you crazy cats there!
-ST