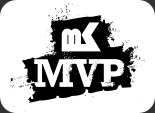 Five months ago, MK launched the MK Music Video Project whereby local bands were invited to team up with SA production companies and submit a creative pitch to MK for a music video.
From there, MK chose the 12 best pitches and commissioned those videos to be produced, resulting in some of the videos I'm about to show you.
If you want to watch all 12, check them out here. Otherwise I'm posting my top five right here, right now. I've chosen these videos according to two broad criteria – not only do the videos have to be sick, but the songs must be rad as well.