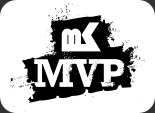 Five months ago, MK launched the MK Music Video Project whereby local bands were invited to team up with SA production companies and submit a creative pitch to MK for a music video.
From there, MK chose the 12 best pitches and commissioned those videos to be produced, resulting in some of the videos I'm about to show you.
If you want to watch all 12, check them out here. Otherwise I'm posting my top five right here, right now. I've chosen these videos according to two broad criteria – not only do the videos have to be sick, but the songs must be rad as well.
Let's start with my number 5. Here's aKing with "Jezebel".
I really, really dig that song. It's got a bit of a Thin Lizzy vibe going and from a songwriting perspective it's really complex, a lot of moving parts all fitted perfectly together.
The video itself was well shot, but when you boil it down to it's essence, it's just the band jamming in a room which we've all seen at least a couple hundred times before and is the reason why this isn't higher on my list.
The next vid from Shortstraw however tells an entire flippin story with schweet underwater shots and everything!
Great track as well, the way they match the pace of the track with the video is pretty much flawless. It's a lot harder to get that shit right than it looks and that last shot is powerful as a punch right to the gut.
Moving on we have the Gazelle track "Val Van Die Ryk" which I must be honest I chose 40% because the video is cool and 60% because the track itself is pretty goddamn sick.
Classic! I'd love to see them do that song live, I reckon it would definitely get the crowd jumping. Great cameo from ol' Francois as well.
This next track and video are both pretty fucking phenomenal. It's P.H. Fat with "Business Business Crash".
We makin' love bitches! Hahahahaha! Too awesome. That one was directed, produced, flippin ART DIRECTED even by my man @thefilmo.
Big up to him and the P.H. Fat crew, I thought that video was incredibly well-shot – the editing is fucking tight as a drum and the whole enchilada, the video and the song itself, are both fucking cool without trying hard.
Which brings us to number ONE on my list. You might have heard this one before…
You guys should have been there in the cinema to see this one on the big screen, people were loving it, great concept, awesome track and an ending that packs a helluva punch.
So all in all, I was really impressed at the standard of videos we watched last night. SA has a shiteload of artistic and musical talent in this country, such a pity there isn't the proper infrastructure to support and develop that talent but it's pretty plain to see we've come a long way.
At the risk of looking like a total douche though, there's one last video I want to share with you guys.
It' isn't South African but I honestly think we aren't far off from conceptualising and producing music videos of this calibre.
WARNING: Keep a box of tissues handy. Not that I needed any, but I know how sensitive you guys are, so yeah, I just don't want you breaking down in front of your co-workers and stuff…
It's Kodaline with "All I Want".
Have a killer weekend party people.
Here's to finding that someone if you haven't already

-ST