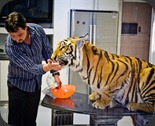 Human beings are by far the dumbest creatures on this planet. We think we're so much better than the rest of creation because we've learned to harness it, but what are we doing with all that godly power?
Destroying everything we see. Pulling the rug out from under our own feet, burning through the planet's natural resources faster than you can blink an eye.
We think we are somehow above it all, like we somehow know and have always known best. We do not learn from our past mistakes. Case in point, Brakpan residents Michael and Jacqui Jamieson, who have adopted a "pet" Bengal tiger.