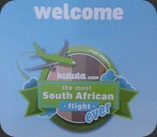 Jus-LAAIK have I just flied back form the flippin' BUFFEST event IN THE LAND or what! How buff am I talking about here?
Boedie, I'm talking about going up to the city of ous who INVENTED klapping gym, I'm talking about staying in a flippin SIX-STAR hotel, klapping flippin buff-it PRAWNS for supper, flippin GAMBLING with a other ou's money, getting showferred to Lanzeria airport and meeting my pel Jacque Perrow!
THEN I'm talking about KLAPPING the most Seffrican flight to ever be flied, having a lag at Kurt Schoonrad and getting lekker emotional when secret KWAAIER OUS start singing the Seffrican national song 10,000,0000km above land.