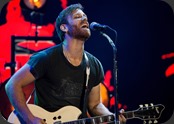 It ain't over till it's over. So fucked up how the world works – you take work home, some fucking brain-meltingly gigantic piece of hell you have to work through and guaranteed, fucking guaranteed, your kid cries all night.
I walked around with my daughter in my arms for an entire fucking hour 12.30am to 1.30am. My shoulder is fucked. You think lifting weights fucks you up? Try just holding an 8kg weight for an hour and we'll talk.
Anyway, let's just play this Black Keys track off the new album and try to put it all behind us for a day or two. The Black Keys understand. They got your back home-boi.
Ok, now it's over.
Go home, get some fucking sleep, you look like shit.
-ST