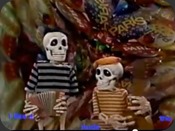 Shout out to Ricksaw for enlightening me on this one. And like Jesus dividing the two fish into a bajillion, I shall now enlighten all of you, my favourite humans. But before I get to that, a story.
I originally wrote this post over a month ago, just before I went into hiding, clicked "Publish" and took it for granted that this had gone up onto the site.
For the days and weeks when I wasn't posting, my only comfort was that this post was my last one, with this song because the original version of this post was badass, and the song badasser.
But it turns out that post about Masters Of Sex was my last one which was an ok post but not really what I'd want to be remembered by if it was my very last.
Just listen to the song. It's by Mounties. Then you'll understand.
Yeah. Good luck getting those hooks out.
Fuck yeah boys and girls.
Fuck yeah.
-ST