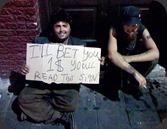 How insane is that. For the first time since my professional career began back in 2006, come 5pm this afternoon, I will officially be unemployed with absolutely nothing lined up for the future.
The thought that on Monday, when all you guys are getting up, getting dressed and hitting your cubicles, I'll just be lying in bed staring at the ceiling fills me in equal parts with terror and fathomless joy.
So what gives? Why the sudden decision to pull out of the race and just park off by the side-lines for awhile? Did I win the lottery? Inherit a fortune of a distant great-aunt? Finally lose my goddamned mind?