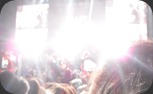 The first morning of a festival is the best by far.
All the troopers from the night before slowly start surfacing, giving one another silent nods of approval from across their respective campsites while the morning sun shines impossibly bright all around you.
First thing I did when I woke up was put my sunglasses on. Second thing I did was down a sachet of rehydrate followed by two liver pills and two Myprodols in rapid succession.
Lastly, I put the Tiger hat on and got ready to face the day though all the preparation in the world wouldn't have got me ready for the insanity to follow.