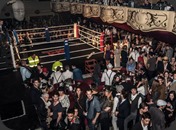 So last week I told you guys all about the Nothing But Trouble white collar boxing event that was going down at Sideshow on Saturday which promised to be the sickest night imaginable.
Combine a 1920s prohibition theme, badass amateur boxing, big ticket sponsors and the fact that my man Big City fought like a flippin' CHAMPION and you have all the makings of a seriously killer time.
Also, don't forget the whisky. Never forget the whisky. It flowed like sweet nectar and resulted in me getting home in the wee hours only to pull my weathered edition of William Blake's Complete Works off the shelf and start reading The Proverbs Of Hell to J-Rab at 2am.