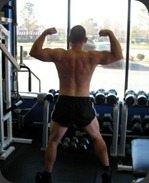 Charnas, I tell you the innernet is a flippin' DAK place filled with epic tales of okes who like to KLAP IT like my new boychie Paul Main Man.
I first discovered about this BUFF CHARNA through some doos whining like a moffie on the mybroadband site because Paul Main Man is the kind of charna who not only KLAPS IT, but is also a cassanova with the belters and can flippin tear you a new arsehole in backyard wrestling!
Here's the flippin moffie complaint I wasted a hour reading I took out all the kak parts):
…we needed our networking system sorted out so I could get some of the lads on computers to answer emails.

Anyway, this bloke turns up, dirty as hell with a bunch of wires and tools hanging out a shody bag with paint over it and addressed himself as Paul. This guy was excuse my language f***ing arrogant, the way he waltzed around the office checking out the women and making sexist remarks. i let it go, i thought in 3 days this piece of crap will be gone. I was wrong, the guy was incompetent, he was there for 5 days and then gave me an invoice of 28k ZAR, that f***ing crook. I rang Telkom and told them that I already paid so where does this guy come about invoicing me, they told me they had no knowledge of this and that payment was received and I need not pay a penny more. when I got off the phone to them I told that scum bag to not swindle me, the guy went bokers, he broke the computers and a printer and nearly punched one of my new employees Mat! I was fuming, i called the cops and he went on his way.
when I got home I did my research on this bloke and found that he does back yard wrestling and calls himself PAul Main Man. what a p***k. Be careful all
All I can say to the charna who wrote this is catch a flippin WAKE UP BOET!
A oke who walzes and checks out women is a LEGEND who obviously is no stranger to banging two blonde belters AT THE SAME TIME.
He invoised you for that much money because this charna spends 9 days a week eating weights and crumbles BRICKS in his breakfast cereal he's so flippin' hard. You lucky he NEARLY punched you and didn't ACTUALLY punch you or you'd be dead.
I found this guy on the interwebs and he's my flippin HERO! Read his site okes, maybe you could learn a thing or two about the proper way to KLAP IT… except he doesn't use steroids… that's a little bit gay…
Paul, I gotta problem with my work innerwebs – the boss keeps telling me I'm watching too many videos and its inappropriate and kak like that, look me up charna, I need my own private ISDL line boychie!
-ST