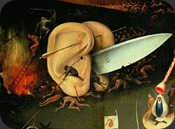 First off, a little context. It's nearly 1am as I post this, J-Rab and The Cub went to sleep hours ago, I'm in the spare room of our flat alone and the wind is blowing at gale force outside.
So I'm a long way away from your comfy office swivel-chair where you're sipping your morning coffee under bright fluorescent light, surrounded by all your office pals.
Second off, a little history. When I was about 12 years old, I spent a holiday with my cousins in Natal. During that particular holiday it snowed for about two days so when we weren't outside building snowmen, we were inside making puzzles, one of which depicted Hell.