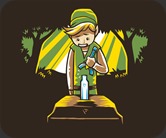 If you missed Part 1 of my personal experience with Nintendo's newest console, click here for the lowdown. I ended that part by asking a few pressing questions about this console that have been bothering me.
Those questions were: Why is the Wii U so crap? How did Nintendo manage to fail so dismally after getting it so right with the Wii? What does the future hold for Nintendo now that the Wii U has tanked?
In answering these questions I actually got off my lazy ass for a change and did some reading up about the Wii U and here's what I found.