Seriously, I fucking love you man. And no, I'm not writing this in some deranged, sleep deprived state like the last post. If anything, I'm a thousand times the man I was when I banged that one out.
Sure, I'm operating on four hours sleep as I write this and I dragged myself through a gym session that would kill a man half my age, but you have to understand, when Nick Cave releases a new album, my world is complete.
In fact, if you go back through all the posts on this crazy junkyard site, you'll find this post I wrote about Nick Cave, it was the second post I ever wrote on the site, it has a grand total of 13 views.
I have a lot of respect for Nick Cave because he is a poet, a musician, a storyteller and published author, a screenwriter, an actor, and above all that, a man who I strongly suspect is out of his fucking mind.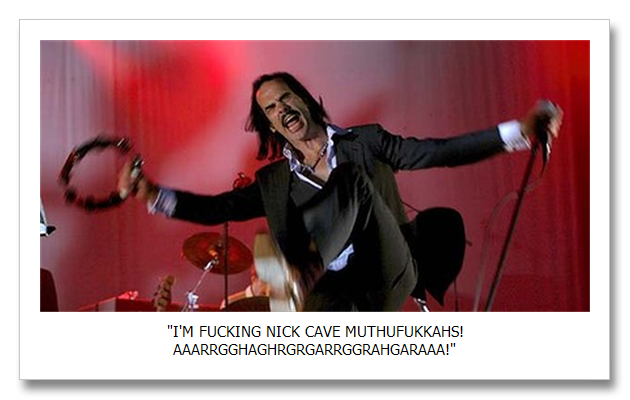 I mean fuck! The guy writes an entire album about MURDER (Murder Ballads) that is literally dripping in blood, tragedy and macabre humour and then a year later releases an album of quiet, toned-down, mostly piano-based songs (The Boatman's Call) that are some of the most strikingly beautiful pieces of music I've ever heard.
I fucking love Nick Cave. I love his anger and his vitriol, his hatred and his spite. I love his benevolence and his grace, his wisdom, his humour, his compassion and his understanding.
I love that he can be all of these things, that he can contain such powerful opposing forces within himself without them literally tearing him apart from the inside though God knows they came close.
His new album Push The Sky Away lands on Sunday. Here's the video for the first single, "Jubilee Street".
Be careful though. There are boobs in this video.
Beautiful.
I love you Nick Cave, you beautiful basterd.
-ST