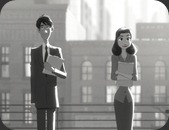 I've been watching a lot of short animations and films on the interwebs recently because as a writer, I have a lot of respect for people who have mastered the art of telling a compelling story in a matter of minutes.
Yesterday I tweeted about a short film I watched called "Voice Over" that I thought was rad, but then today I stumbled on this Oscar nominated short film called "Paperman" that you guys HAVE to see.
The first-time director behind this short animation, John Kahrs, uses blended computer-generated and hand-drawn techniques to tell this story and the results speak for themselves.