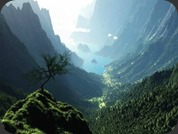 We're trying a new thing here at SlickTiger Industries today folks and it is CRUCIAL that every one of you who reads this post today comments on the new thing we are trying IMMEDIATELY in the section provided.
This blog site is written at least 55% for YOU the people and 45% as a very strange, deeply troubling four year-long private joke that I a share with me and a handful of other people in my head.
But that's a blog post for another day. Today's post exists for one reason and one reason only – to transport you from the suicidal depression of another Monday to magical far-off places that closely resemble paradise.