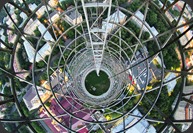 Russians are a weird bunch at the best of times. The only first-hand experience I've had of them was when J-Rab and I were in Thailand on an island tour with about 30 of them in a speedboat with us.
The trip lasted a good 10 hours and during the course of it we saw some of Thailand's most beautiful islands, but do you think these flippin' Ruskies cracked one goddamn smile at any point during the trip?!
It was like we were stuck on a boat with a buncha miserable shop mannequins. That's what made the photos I'm about to show you all the more remarkable. The depth of emotion they capture and communicate is truly amazing.