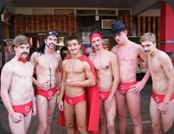 In history, ous remember the heroes. They remember the 300 charnas with lekker six packs and red cloaks kicking other ous down a hole because they don't know that that was SPARTA.
They remember that GLADIATOR oke what told ous to unleash hell and then MOERED THE KAK out of any charna dumb enough to try his flippin luck.
And they remember that Titanic oke, what got Kate Winslet (BELTER) to show us all her boobs when he painted her like one of his French Binnets and then froze to death in the flippin sea because he was a gentleman and wanted her to float on the door by herself.