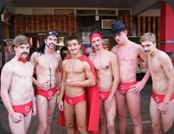 In history, ous remember the heroes. They remember the 300 charnas with lekker six packs and red cloaks kicking other ous down a hole because they don't know that that was SPARTA.
They remember that GLADIATOR oke what told ous to unleash hell and then MOERED THE KAK out of any charna dumb enough to try his flippin luck.
And they remember that Titanic oke, what got Kate Winslet (BELTER) to show us all her boobs when he painted her like one of his French Binnets and then froze to death in the flippin sea because he was a gentleman and wanted her to float on the door by herself.
And then they remember ous like us who, having never trained legs in like, TEN YEARS, put on tiny red speedos and ran for our balls (and the balls of others).
Today is the DAREdevil Run 2013 where me and a entire TEAM of the BUFFEST CHARNAS IN THE LAND are going to fight our own battle, a battle against the terrible disease of CANCER.
Our weapons in this fight are going to be AWARENESS, ENCOURAGING TESTING and of course our flippin HUGE GUNS.
So if you're sitting around today and don't have plans at 3.30 this afternoon – come to the Hamilton's Sports Club in Seapoint and either take part in the run (actually better if you ous come at 2.30 if you wanna run, so you can get parking and kak) or just support if you dig seeing lank okes basically naked in speedos, some of which are MASSIVE AND RIPPED (the okes, not the speedos).
Because I'm like, still not actually sure of exactly who all the BUFF CHARNAS in Team Tiger are except for my main man Big Daddy Savage, I'll just be handing out TIGER BUFFS to BUFF TIGERS who will then get to start the race first with me – KLAPPING IT!
So see you ous there!
-ST