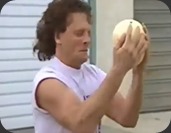 It's a flippin' FACT OF LIFE that sooner or later in any klap gym boychay's life another ou is gonna check out your BUFF TAN, your TIGHT "TAP OUT" VEST your magical POWERBALANCE bracelt and decide to cause kak.
Luckilly in such a instance, your naturally uncontrollable ROID RAGE will give you a edge over your opponant, BUT it's also lank important to know the right way to flippin MOER the ou stukkend.
That's where the legend ou that is 80s Fighting Mullet Charna comes into the picture. This ou will choon you straight about the advantages of moering ous with a "heads-butt" and using the "no more viscious tool" than the elbow.