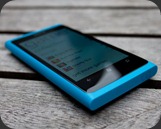 It's been nearly a month since I got my hands on the Lumia 800, one of the first Nokia Windows 7 phones to be released to market and I can still hardly find fault with this phone.
So far I've looked at form factor, some of the live tiles, Twitter and Facebook on the phone, the camera and the battery life (which did improve after I updated the phone, thanks Seerower!).
Today we're synching this puppy with my PC, checking out the Skydrive and playing around with Office cause I'm thorough that way. I'm like Ogden Nash walking on the beach. I leave no tern unstoned. [SFX: Crickets].