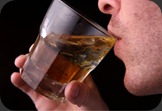 After a vague introduction last week about SlickTiger Industries newest venture, Project Whisky, it's time for us to officially get this party started.
My goal here is to get you crazy basterds drinking and enjoying whisky as much as I do because it is truly the greatest spirit ever distilled and your life will be all the better for it.
Step one is the right music. You can't crack open a bottle of Ireland, Scotland, Japan, America, Canada, hell even India's finest without getting into the right frame of mind. To get you there I'm calling in a favour from my good buddy, Jim Morrison.