What can I possibly write that could ever do justice to the fucking awesome time I had at Synergy this past weekend?
After building it up in my head to be this epic event that was going to change my life forever, I was pretty sure the actual experience would never live up to that, but after a bit of a rocky start, everything came together in the best possible way and we had a truly epic weekend.
The Good…
I actually started writing a full, blow-by-blow account of the entire weekend, but after I got to 2000 words I realised I need to keep this punchy.
So instead, here are some bullet points on what was awesome about the festival:
Boschendal is STUNNING! Surrounded by majestic mountain peaks and flanked on the one side by a river perfect for dipping your toes in or, further down, jumping in for a swim, the whole area is really beautiful and perfect for a festival
The organisation is pretty damned sick. At festivals you expect to spend a fair amount of time queuing for food and booze and holding your breath as you walk into porta-loos that look like hell, but Synergy was really well organised that way. Every toilet I went into was actually spotless, even right at the end and the food stalls were plenty and not too expensive either
TAXI VIOLENCE! These guys put on the best fucking show I've seen them play EVER! It was fucking electrifying, the crowd was loving every second of it and George and the guys were giving it their all. Great job, you blew everyone the fuck away!
LMG STAGE – a great place to discover new talent. These are the bands that will one day be tearing it up on the mainstage, no doubt. We caught snatches of bands playing here, but to be honest were too busy missioning around to remember who any of them were. DEFINITELY should have spent more time there, big fail on my part
The rides! We never went on them, but DAMN they looked like fun!
The river! On Saturday morning we went down to the river and spent a long time sitting or rocks slowly getting drunker, talking shit and splashing around in the river. This is what festivals are about, getting away from it all and doing something as simple as sitting with your feet in a river, not giving a shit about anything
The sun cream girls! Spraying everyone that needed sun cream with sun cream. VERY cool idea, a nice touch to make sure people didn't get fried in their own natural juices
Our gazebo. This, more than anything, is a festival essential if you're going with a big group of people. The gazebo united us. It provided much needed shade when the day started getting baking hot and it was the perfect thing to lie under and drink cold Bloody Marys all afternoon
Playing the messiest game of Kings ever! You know it's a good one when the cards end up all over the camp site once the game has disintegrated into random shouting, laughter and drunken chants of "Down it!" All thanks to the genius "every time someone pulls a black card, everyone drinks" rule. That's a recipe for awesome right there…
THE COMEDY TENT! Who goes to a music festival to listen to comedy, right? What a total waste of time, right? WRONG MUTHUFUKKAHS! On Saturday night we wandered randomly into the comedy tent and caught Dylan Skews' set (who also happens to be a friend of ours) and basically spent the next hour crying with laughter. I've known Dylan for a couple of years through friends of ours, but never heard his stuff – it was the funniest comedy I've seen in YEARS. Great job man, J-Rab and I love your work
JAX PANIK! Possibly the biggest crowd I saw at the main stage all weekend – not really the kind of music I go for, but they were fucking AMAZING! The crowd went crazy for them and they delivered the goods. Definitely watch out for this band, they put on a great live show, one of those moments that makes you proud to be South African
ISOCHRONOUS! Ok, anyone who was at the festival is probably starting to pick up a general trend here – yes, we basically missed all the bands on the opening night except Taxi Violence (a lot of tequila happened. I blame you Ebz, I blame you… Joking! We had a badass time, sorry we missed you the rest of the festival!). But we caught Isochronous, who have a strong Muse-flavour to their material, and are face-meltingly awesome to watch live
Morning bacon and egg rolls for R15! That's all we need to say about that one
VIP bracelets – thank you to the festival organisers for hooking J-Rab and I up with these, we put them to good use on Saturday night when, on a random mission to arrange a photo pass, we headed backstage to the production office and ended up…
MEETING BLACK REBEL MOTORCYCLE CLUB! Well, actually we didn't really meet them so much as round a corner and find them sitting literally five feet from us being interviewed by MK89. For this BRMC-obsessed fan, it was fucking surreal to see the band so close, but we were asked to please leave by the band's manager, not in a shitty way, in fact they even listened to me gush for 15 minutes about how amazing I think they are even though they've probably heard it a million times before. It was a perfect moment seeing them so close in this quiet, random corner of the festival and one I won't soon forget
The Bad…
Of course, it can't be all sunshine and lollypops, there are a few bad points about the festival that I feel I need to mention, namely:
The fact that I had to wait for over 2 HOURS for those aforementioned VIP passes! Thank God I managed to win a ticket to the festival through Bangers & Nash or I never would have gotten inside to find the festival organisers in the first place. It was a kak way to start the festival, but things were chaotic for the organisers so I understand, but still, 2 HOURS waiting alone under the Synergy arch?! That was painful
The nights. They were FREEZING cold! Friday especially – you could see your fucking breath it was so bad. J-Rab was practically crying she was so cold. Next year we're taking backup blankets, that's for DAMN SURE!
The drunken douchebags camping near us. Who, at 6 in the morning, think it's cool to shout "Show us your pussy!" to the girls walking past their camp site. Don't be a "show us your pussy" kind of guy, no one likes guys like that, especially not at 6 in the morning
The Redbull Stage. Not that the music was bad, the music was pretty sick for the most part, but the people listening to it, phwoar! Ease up on the MDMA guys, you look like a bunch of Gummi Bears bouncing here and there and everywhere, high adventures beyond compare…
The trek from the parking to the campsite. I guess this is to be expected at festivals, but you had to lug your shit for a good 20 mins before you hit the campsite and then at least another 10 before you found a spot to camp
This is a bit of a sad one, but after all that hype, after building it up for so long, it pains me to say that one of the bad things for the festival for me was Black Rebel Motorcycle Club. We fought our way right up to the stage, about 5 metres from the band and stayed there, basically in the mosh pit for the next hour before finally leaving before the band had even finished playing.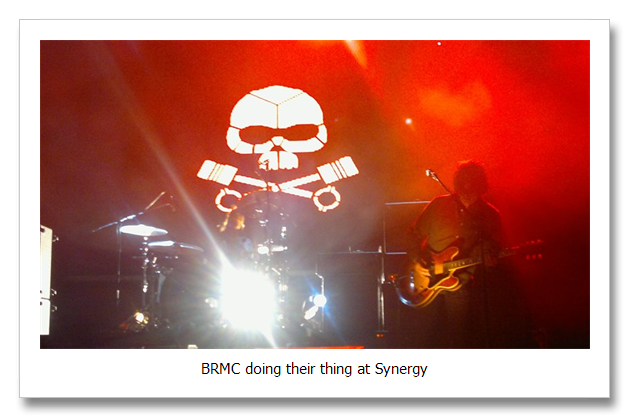 I mean, they NAILED some of the songs – "Conscience Killer" was INTENSE! They banged it out full of sound and fury, "Ain't No Easy Way" was also fucking brilliant, as was "Six Barrel Shotgun", but to be perfectly frank, for the most part the band looked a bit bored.
Leah (the drummer) came alive for one song maybe, the rest of the time she stared ahead with the same blank expression on her face, Peter (singer, guitarist) played like a fucking MACHINE, tearing his fretboard to pieces and banging out some seriously badass bluesy rock, but was also expressionless throughout.
Robert (singer, bassist) was the most animated of the three – he has this cool way of playing his base guitar like he's aiming a rifle and MAN can he play that bass. He also swapped it out for a normal six string a couple of times, he's a fucking talented musician.
In fact, they all are. You cannot fault them on that point and I will always, always love BRMC, but I just feel like their performance was missing something. I'm stoked I got to see them live and like I said, I loved a lot of songs they played, but they fluffed a few tracks too, which was a bit sad.
The Ugly…
And then there are the moments you kinda wish you hadn't ever seen, like when…
It was 5pm on the OPENING DAY OF THE FESTIVAL, and I watched a girl falling all over the place, drunk as a mineworker and splashing white wine everywhere while her buddy tried to walk her back to her tent
One of the drunken douches camping next to us passed out at 6pm on Saturday night with his head out his tent so he could have a nice, hearty chunder while J-Rab and I were eating our sammiches not 10 feet away from him. Yummy.
On Saturday night, a guy ran straight into a car. It was actually hilarious. There was one solitary white polo parked off to the side the main stage, you couldn't miss it, but this genius ran right into it, BANG! Hahahaha!
The Amazing…
I don't want to end this on a shitty note, so let me sum up by first thanking everyone who made our festival experience possible, Tchavdar and the crew at Synergy Live, New Sound Artist Management and of course Mr Dan Nash.
Our plan came together in the best possible way and we had a fucking amazing time!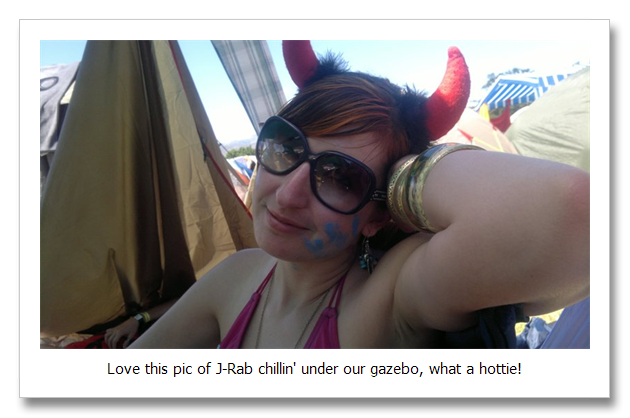 Sure, I didn't catch half the bands I wanted to see, but there will always be time to watch them play in and get the interviews I want to sometime in the future.
The bands were amazing, the organisation was top notch, the good times kept rolling and the shower and nap we had after we got back home yesterday was fucking glorious!
You bet your ass we'll be at Synergy 2012 and so will you guys because it's a brilliant festival.
Here's to an amazing weekend of sick bands, sunshine and good times
-ST