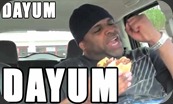 I know I say it on a weekly basis but I fucking love the internet. I honestly don't think I could live without it – life would be too boring to handle.
The great thing about it is just when you think it couldn't possibly get any funnier, someone steps up to the plate and smacks a piece of fall-off-your-chair-laughing content right out the park.
My favourite internet memes at the moment are auto-tuned African-Americans from the projects breaking it down in soulful R&B remixes of legit news interviews. As far as I know, Antoine Dodson was the first, followed by Sweet Brown.
Now there's a new auto-tuned internet superstar – my main man Daym Drops who's hilarious review of a burger and fries, originally filmed in his car has been turned into an even more hilarious song by the guys who originally auto-tuned Antoine (Schmoyoho).
Here's the original video. It's a bit lengthy, but totally worth watching. Probably don't do it if you're hungry though because holy sheeit, this man knows how to sell a tasty burger.
Did you have any idea they made people that awesome?! It's like he was hand-crafted for internet superstardom by God himself. Mesmerising I tells ya…
And now, for your Friday viewing / listening pleasure, here's the remix:
Look at. The bacon.
DAYUM!
And then watch that video again, it gets better every time
Have a killer weekend party people.
-ST