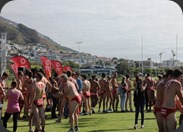 We did it okes. Team Tiger And The Buff Charnas got together for a good cause and ran for our balls at the DAREdevil Run 2013. To all the ous who joined Team Tiger, you charnas are LEGENDS!
In fact, to all the ous who ran the DAREdevil Run in Cape Town, you are the BUFFEST ous in the land. To go out their in a red speedo and run up and down Seapoint promenade getting wolve whistles takes BALLS.
I must say though, the actual RUNNING part was a flippin' weird sensation for me. After 10 minutes it was like a ou was pouring flippin BATTERY ACID into my legs, yirre!